Herro.
So I never got around to posting some still images front he 20 dollar challenge. I was away overseas! So Jose and myself made up this challenge. The point of the challenge was to start from scratch! Meaning you don't have the comfort of using your go to products! (in most cases) Jose went with mostly ELF products which cost no more that 3 dollars per item! Elf was hard because its only available at targets and you can't get them at a normal drugstore! Targets aren't at every corner like a CVS or Walgreens. I stuck with more of a corner store cosmetic. My favorite had to be the RIMMEL palette. (the one pictured with the UK flag) The black sparkle shadow was really awesome and the shadow worked really well. In the challenge video itself, you can see that some of the products used were horrible. The NYC eyeliner got the job done, but within an hour, it faded and didn't stay black! I ended up using the mascara formula and packed it on my lash line and made it act like gel eyeliner!
The foundation is called FIT. It was ok for 5 dollars. I would have needed a couple coats to give some decent coverage. Elf eyelash curler worked its purpose. What I really loved was the ELf matte lip pen and the lipgloss! (Jose's choice) I still use them! The Elf palette that he used is was OK as well. For some reason Elf does not stay consistent with its production. I feel that the 100 eyeshadow palette was much better quality vs this mini eyeshadow palette!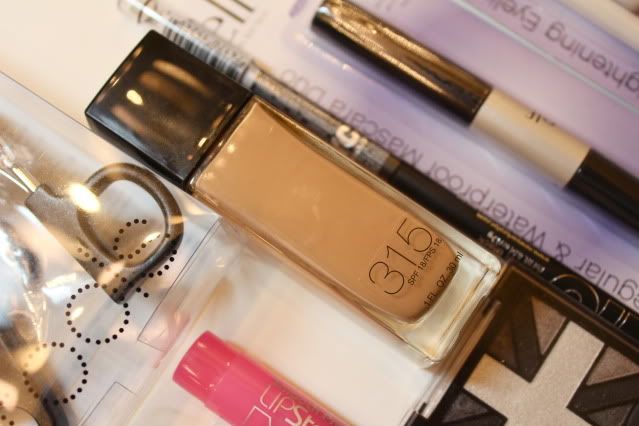 Above: The far right. ELF eyeliner, which can be used as an eyebrow pencil! Its in Coffee and I still use it till this day!
Below: And here is the challenge if you didn't see it. The comments on this video were just so bad. Ofcourse the majority were fantastic. You can tell that the ones that knew me understood where I was coming from! I stick with the cosmetic counters for my foundation as well as my eyeliner! Cosmetic counter make up is not the same as drugstore make up. The ingredients are much finer than drugstore make up. Thats why drugstore make up is cheap, the poor quality of ingredients are cheap. "FILLERS"
I ruffled some people feathers with this video, but I was being honest and felt that some of the things I used were crap. It was for the challenge and it was challenging not using my brushes!! It also made me try new things. I think once we find what works, we stick with it! And honestly, I don't mind spending 24 dollars on my foundation. It looks great on and I work with professionals in the studio with real studio lighting and drugstore is horrible on camera and transfers poor onto pictures. And Ps. for those who think that MAC is so expensive and "fancy" its actually pretty cheap compared to high end make up counters.
PEACE LOVE AND LIPGLOSS